Reiki healer in Doncaster
Welcome to Reiki Doncaster, I'm Kirsty a local Reiki healer and Reiki master in Doncaster. I offer Reiki treatments in Doncaster. Reiki is an holistic therapy and Reiki healing is a universal life energy therapy. Natural energy around your body can become blocked and damaged over time.
So I use Reiki to work in harmony with this natural energy around your body to bring back balance. Reiki can help with stress, emotional issues and many other health problems.
Reiki can help with pain and Reiki helps with depression My Reiki healing training started in 2001 and I became qualified as a Reiki practitioner in 2003. I am a Reiki master now and I'm here to help you.
I offer Reiki healing in Doncaster. Giving Reiki healing treatments for Anxiety, Stress Relief and a range of other issues needing relief like long term illness.
As I'm a Reiki Master in Doncaster, I also run Reiki courses for my clients as well as anybody that wan't to become a Reiki healer.
Just Click to call or Text me…
After Reiki treatment, you will benefit from balanced life force energy. And this will help you on your journey to better health and everything that comes with good heath. With over eighteen years of giving Reiki treatment in Doncaster, hundreds of clients and many years of Reiki courses. Tou can come to me with confidence.
You can feel relaxed with me in the knowledge that your will be getting the very best in Reiki treatment. And in this difficult time you can still receive distance Reiki treatment healing from me. Just contact me at Reiki Doncaster and I will tell you how it all works.
Reiki healer in Doncaster
So what is Reiki and how can Reiki help me? Well Reiki can be described as a universal healing energy it was first recognised in Japan in the early part of the last century. Although in terms of the energy, it has always been around.
The founder modern of Reiki is Mikao Usui. He taught the path to enlightenment through Reiki. And taught it as a self-healing method to create oneness and purpose in life.
It was only later that Reiki was used as a treatment in the way that we think of it in the modern world. This is what was brought to the western world, and how you are able to get Reiki treatment in Doncaster
The successful Reiki practitioner will have daily self-meditations and keep to the guidelines for a Reiki lifestyle. This then benefits the Reiki practitioner to develop a stronger connection/channel while they practice. More about Reiki meditation here.
This is how I, as a Reiki healer in Doncaster Reiki can create such a strong connection to Reiki to heal you on all levels during the treatment. I started my Reiki training almost twenty years ago, so you can feel confident in me as a well established and highly trained Reiki therapist. My Reiki master
Learning these techniques for many years now. I have mastered the energy system to balance and harmonise during my Reiki sessions.
Reiki Doncaster has the best intentions and techniques to harmonise your energy system with Reiki.
Putting your body in the best state to heal itself on physical, mental, emotional, and spiritual levels.
Reiki practitioner in Doncaster
As a traditional Reiki practitioner I use the original system used by the founder, Mikao Usui. There are only a handful of students taught by Mikao Usui left in Japan. And I have had a great privilege to be taught by one of the teachers following the original Reiki system.
Reiki Doncaster can offer a simple, elegant, powerful, and uncluttered Reiki that is not cluttered by western-style Reiki techniques.
Over the years, I have been fine-tuning my Reiki methods and from day one Intuitive Healing is what I specialised in. By having such a powerful connection to Reiki straight away. I have found Intuitive Healing the best method for myself and my clients.
Intuitive Healing (called Reiju) is one of the methods that Mikao Usui originally taught. You will find during your treatment with me, your Reiki healer in Doncaster, you get more benefits, effectiveness, and accurate healings. This will concentrate your healing.
Connecting to Reiki through Reiju has benefited my personal life and has improved my lifestyle. The way I see the world, my health, and especially my happiness.
Reiki training in Doncaster
If you are interested in learning Reiki so that you oyu can give Reiki treatments. I offer a Reiki level 1 course in Doncaster to get you started on the wonderful journey of being a Reiki practitioner.
Reiki Therapist in Doncaster
In self-reflection Reiki has become the way I get to connect with such wonderful people who I can help and to create the lives that they desire.
With Reiki Doncaster you will be experiencing self-healing and spiritual development with the ongoing weeks of Reiju healings by me, Kirsty.
And in each treatment, we will discuss any health concerns or things you would like to change. The intent on how you want to live your life and how we will go about harmonising this into the world.
During my treatments with Reiki Doncaster, some of the energies you will be experiencing are Earth Ki and Heavenly Ki.
These energies help trigger the body into balance and oneness in the self. Earth Ki focuses on the body and any illnesses, weight loss and any physical injuries with aiding recovery. It is a strong, grounding physical Earth energy that focuses on physical health.
Heavenly Ki focuses on the mental and spiritual side. This also can help to clear and unblock your chakras to help harmonise balance.
Heavenly Ki is beneficial for mental health, especially stress, depression, Reiki treatment for cancer and anxiety. And any worry or concerns also improving your spiritual connection to the path of enlightenment for your life.
It will build a stronger connection to the spiritual divine part of you, to achieve wholeness. Along with the unblocking of your creative side.
Reiki Master in Doncaster
As a local Reiki Master my practice is in my home-based environment where you will experience all the the benefits of your Reiki healer in Doncaster.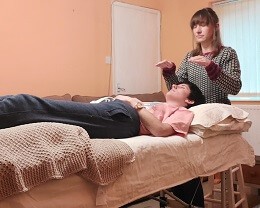 Every treatment is tailored to you and your needs as the treatment is all about you. An uplifting and comfortable environment with candles, lovely-smelling aromas for a deep relaxation session. Filled with healing vibes and calm instrumental music.
The treatment will start with a discussion about your intentions for the treatment with any highlights you would like me to focus on.
And as we begin, you will relax on the treatment table to start the session.
Every treatment with Reiki Doncaster, I use Intuitive Healing where my hands are always above the body, never touching you.
My hands are above your body and I probe the energy field around you to check for areas with low energy. So I am aware of what needs extra attention.
Reiki healing – Relaxing therapy
All the treatments start with relaxing the mind and connecting you to the Reiki energy. And I end the treatment at the feet, releasing all blockages and low energy points. Then I begin work on your chakras.
During the Reiki session it is important to create a strong connection to the Reiki. Starting with your crown chakra to help the flow of Reiki through your body. So it is vital that your chakras are harmonised with you.
This is why during your treatment with Reiki Doncaster. I pay particular attention to all your chakras to help with the overall health and wellness.
At the end of the session you may feel very heavy and relaxed, or sometimes a bit lightheaded. It is important to take your time to slowly get up, as you have just had an intense healing with Reiki.
Intuitive Reiki heals on all levels that you will notice in the time between our appointments. Different things may come up during your week. This is all a part of the healing process you have just undergone.
Most importantly, Reiki is about acceptance, and you will only feel the healing if you accept it in the beginning. Treatments of Reiki will help to change your outlook on life. Your health and wellness and your state of mind. If you have faith that it will. Reiki can help with anger issues.
In conclusion, Reiki Doncaster uses intuitive healing to experience the maximum effect that Reiki can give. Therefore, many of my clients have gone away after our sessions saying how much this has helped them in their day to day life and only wished they had done it sooner.
Reiki Doncaster you tube channel